Weather News – Fire and strong wind warnings as a heatwave continues across south-eastern states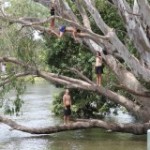 Fire and strong wind warnings as a heatwave continues across south-eastern states


Monday January 25, 2021 – 12:27 EDT


Albury locals took to the trees at Noreuil Park in Albury to beat the heat.
– ABC


Australia's south-eastern states are bracing for potential fires and strong winds as a heatwave pushes temperatures above 40 degrees Celsius in many areas.
The temperature reached 38C in some parts of Victoria by 10:30am, with a cool change not expected to reach Melbourne until 5:00pm.
The Victorian capital and a heat health alert is in place for all of the state, except the South West and Wimmera.
Areas in New South Wales,…