Israel celebrates Abraham Accords with global peace talk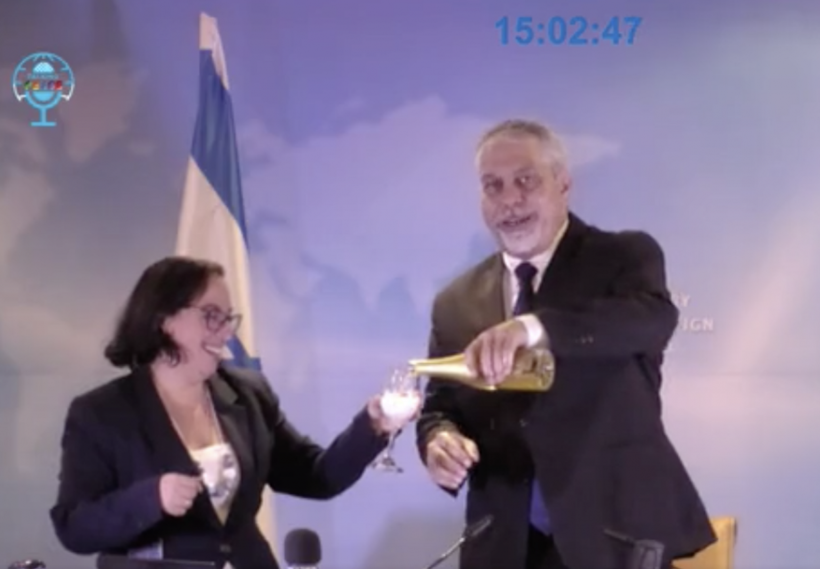 Israeli authorities have held a record 12-hour marathon of back to back interviews with journalists from around the world to celebrate the signing of the Abraham Accords at the White House in Washington one year ago.
Foreign Ministry spokesperson Lior Haiat completed dozens of interviews with journalists from around 100 countries with Australian Online News journalist Christy Johns representing Australia.
"This project is part of the celebration of the year of peace. The first anniversary of the peace and normalisation agreement of the UAE, Bahrain and with Morocco," Mr Haiat said.
"This is a tough challenge and we're going to be here from now 8am Israel time until at least 10 or 11 pm. It's a crazy challenge but here we are today."
The signing of the Abraham Accords represented a decision to look to the future of the Middle East rather than dwell on the past.
"The agreement created opportunities with other countries but also for citizens of those countries to feel the benefits of peace. It's a peace agreement that will touch the lives of citizens and will make their lives better."
In the year since the Abraham Accords were signed, Israel has opened a Consulate-General in Dubai, an Embassy in Abu Dhabi, and an Embassy in Manama (Bahrain).
The UAE and Bahrain have both opened embassies in Tel Aviv and appointed ambassadors to Israel.
Trade between Israel and the UAE surged from $50.8 million between January and July in 2020 to a whopping $613.9 million during the same period in 2021.
Israeli authorities say the enormous economic benefits of the peace accords have become rapidly apparent, and all sides have gained from the fruits of peace.
"We have signed over 40 bilateral agreements in the last year on economy, tourism, science, and technology."
When asked how the agreement would affect Australia, Mr Haiat said it will affect the entire world.
"It will bring stability to a region that was known for its instability and create circles of influence. It will be a lot easier for Israelis to visit Australia and for Australians to visit Israel as they will be able to fly shorter route towards Asia."
"We are looking for peace with all our neighbours and we would love other Arab and Muslim countries joining the circle of peace. We have some on their way to join but I won't mention them now as it won't benefit the process."
When asked how Israel would gain peace with Palestinian leadership, Mr Haiat said more conversations were needed.
"There is no one in the world that wants a solution for the Palestinian Israeli conflict more than Israel. Hopefully they will understand there is a choice to make – which side of history they would like to be on. One that chose peace or one that chose conflict, terrorism and violence.
"We invite the Palestinians to change their decision not to negotiate peace with Israel. Hopefully the Abraham Accords will affect that as well."
At the end of the marathon session Mr Haiat celebrated with a glass of champagne.
"One of the benefits of the COVID-19 crisis is people connecting on Zoom and I don't think this would've been possible without the pandemic. That's one silver lining."