Citrus canker plant disease gone from Australia after NT eradication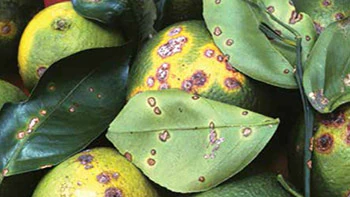 Citrus canker has officially been eradicated from Australia, three years after the plant disease was discovered in the Northern Territory.
Key points:
Australia is now free of citrus canker, improving export opportunities
The disease was first found in the NT in April 2018
6,000 citrus plants were destroyed in efforts to eradicate the disease
The bacterial disease causes brown spots to form on citrus fruit, leaves to drop and unripe fruit to fall on the ground, and is easily spread by infected fruit and leaves.
Citrus canker was found in Darwin in April 2018, 14 years after Australia's last citrus canker outbreak destroyed 500,000 citrus trees near Emerald in Queensland.
The effort to eradicate citrus canker from the NT involved the…